Renovate Europe campaign
The Renovate Europe campaign was initiated by EuroACE (the European Alliance of Companies for Energy Efficiency in Buildings), with a focus on EU, national, regional and local policy levels. It is an ambitious roadmap on how to raise the yearly renovation rate to 3% in Europe by 2020 and achieve an average improvement in energy performance of ~ 80%. Renovate Europe is solution neutral, each building has its own specificity, therefore policymakers should emphasize performance over specific technology.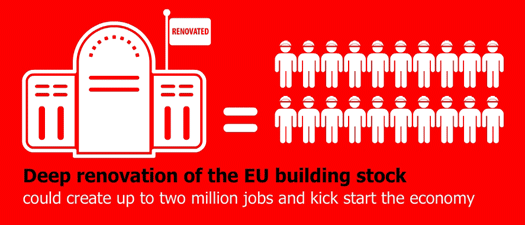 The companies supporting this campaign stand ready and willing to help national and European policymakers Renovate Europe. We must work together to create local jobs, reduce Europe's CO2 footprint and ensure that we are less likely to suffer from foreign energy shocks.
Renovate Europe Founding Members